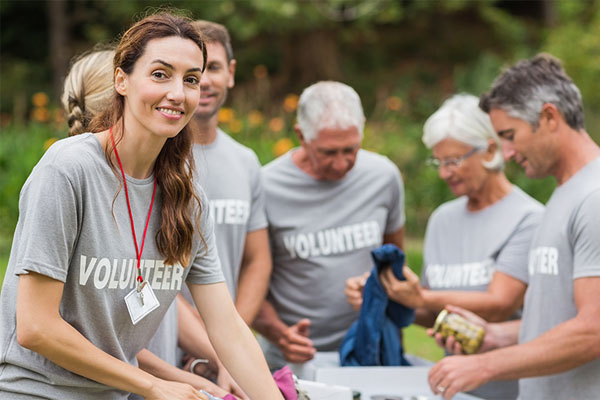 60 and nowhere near retirement!
Retirement from work leaves many feeling as though they are being left behind and they become socially isolated, but retirement from work isn't retirement from life and there is a wonderful world of opportunities where older people can put their skills and interests to valuable use. Volunteer Nelson speaks to Wendy who joined the office team in March 2018.
"When I was about to turn 65, I wasn't ready to retire after working 40-hour weeks. I'm not a do-nothing kind of person," says Wendy who decided that she would return to volunteering once she retired after the enjoyment she gained from working for Lifeline for 16 years of her early working life.
She found out about Volunteer Nelson's 60+ volunteering programme and registered on the Volunteer Nelson website, attaching her CV. Soon after registering, she was invited in for an interview for the office role at Volunteer Nelson itself. At first she thought she wouldn't qualify as she lived quite a distance from the office, but Volunteer Nelson tailored the hours to suit Wendy who now volunteers one day a week at Volunteer Nelson's Buxton Square office. Earlier in 2018 Wendy also had started a voluntary role with Age Concern's Age Connect, which was formed by Volunteer Nelson, Age Concern and other interest groups to connect older people with community activities.
"I work one day in the office making calls to people to encourage them to come along on the weekly Age Connect van outings and occasionally go along on an outing as a host to ensure people get the help they need out and about and getting on and off the van," explains Wendy.
But, Wendy hasn't stopped there. She has a third voluntary role hosting Pet Connect that takes people with their dogs to visit people living in rest homes who no longer have pets, but miss the interaction they once had with their own animals. As of this week, Wendy has expanded her Pet Connect work to a second rest home.
Asked why Wendy does it, she says, "It gives me a reason to get up in the morning with the bonus being that I love what I'm doing and all the people I work with are neat. I don't need money or to feel needed, because I gain in so many other sorts of ways through volunteering.
Gordon Oldfield, Manager of Volunteer Nelson that runs the 60+ Volunteer Programme concurs, "Several studies have found that those involved in regular volunteering have higher mental and physical health status."
"A study published in the British Medical Journal in 2016 found that the improvement in mental health amongst volunteers in their middle age and older was greater than for younger volunteers. Not only are volunteers healthier and happier, they also experience a number of other benefits from volunteering. There is a great deal of satisfaction from contributing to something that is important to you and feeling that you are making a difference. It gives you a sense of purpose and a sense of belonging. This sense of belonging often comes from working with others to achieve a shared goal or objective."
"Wendy is one example demonstrating the valuable contribution that older generations can make in the community and how volunteering helps to reduce the risk of social isolation," adds Gordon. "In our experience, community organisations view people 60 years and over as a valuable resource and are highly dependent on the contribution of volunteers to deliver services.
So, how does it work? Once registered on the Volunteer Nelson website, the volunteer profiles that capture skills, experience and volunteering interests, are then circulated amongst member organisations that are then able to contact the volunteer directly. This results in older volunteers feeling that they can still make a valuable contribution. It also means that they are more likely to find a volunteering opportunity that fits with their interests and skills that they have developed over decades.
To find out more, visit www.volunteernelson.org.nz/60-programme/ or have a read through some of our recent exceptional volunteer award stories on our Volunteer Nelson facebook page and blog.